Twilight Saga - 5 Movie Marathon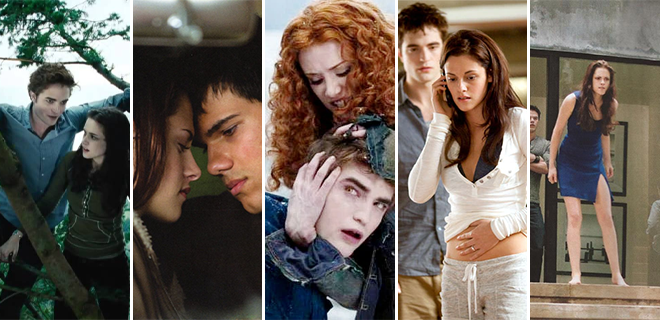 All five films from the TWILIGHT SAGA, screened together for an all-night movie marathon event!

"Where the hell have you been, loca?"

It started with Cinema Nova revisiting TWILIGHT for a "one-off" event in March to celebrate Kristen Stewart's Oscar nomination for Spencer and Robert Pattinson's arrival as The Batman. Now, after months of sell-out sessions, double features and a particularly unhinged triple feature, Cinema Nova is going all-out to celebrate this very special saga with an overnight movie marathon spectacular!

Experience what is fast becoming the 2010s cult favourite with a communal experience that just might be the new Rocky Horror – you're among Twihards here, and these fans don't mess around. This is, after all, the TWILIGHT Renaissance and it all started at Cinema Nova! Expect singalongs, giveaways, dress-ups, sparkly torsos, an early morning cereal bar to keep your energy levels up and much, much more.

IMPORTANT: due to operational necessities attendees must arrive by the commencement of the second feature, New Moon. Arriving later may mean you cannot access the venue (however, anyone needing to leave before the final feature concludes will be ushered out of the venue). Seating is allocated and applies for all five movies. Complimentary cereal bar breakfast will be available to guests during a thirty minute break between Breaking Dawn Part 1 and Breaking Dawn Part 2. Any questions? Reach out to us via Facebook, Instagram or the Contact Us page of this website. An email containing information about the event will be sent to ticketholders who purchased tickets online will be sent in the week prior to the event. Saturday July 30 8.45pm session has sold out.
Show Times
Trailer
Details
Legend Deluxe: In-Cinema dining session.
Event: Special event screening, complimentary & discount tickets do not apply
CC & AD: Closed Captions or Audio Description available for individual/personal use in those shows indicating a 'CC & AD' notation on a film's session time booking button. Please note that only selected sessions are capable of offering the Closed Captions or Audio Description option, please contact the cinema in the event of confusion to avoid disappointment.
Session times for the new cinema week, commencing each Thursday, will be released the Tuesday afternoon prior