Kill Bill: Vol. 1 + Kill Bill: Vol. 2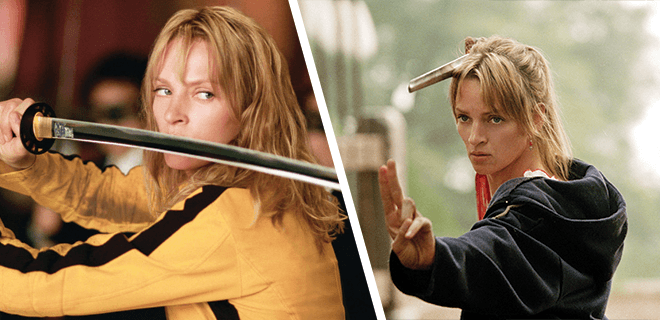 DOUBLE BILL! Quentin Tarantino's rip-roaring revenge masterpiece explodes onto the screen in a bloody mess of samurai swords, Golden Harvest homage, spaghetti western visual cues and some of the greatest showdowns ever committed to the cinema screen.

The Bride (Uma Thurman) wakes from a coma with revenge on her mind following the murder of her fiance on their wedding day. Drafting a list of those she holds responsible, The Bride travels far and wide as she faces-off against the members of the Deadly Viper Assasination Squad (Lucy Liu, Vivaca A. Fox, Michael Madsen, Daryl Hannah) and their leader, Bill (David Carradine).
Show Times
Trailer
Details
Legend Deluxe: In-Cinema dining session.
Event: Special event screening, complimentary & discount tickets do not apply
CC & AD: Closed Captions or Audio Description available for individual/personal use in those shows indicating a 'CC & AD' notation on a film's session time booking button. Please note that only selected sessions are capable of offering the Closed Captions or Audio Description option, please contact the cinema in the event of confusion to avoid disappointment.
Session times for the new cinema week, commencing each Thursday, will be released the Tuesday afternoon prior