Strictly Ballroom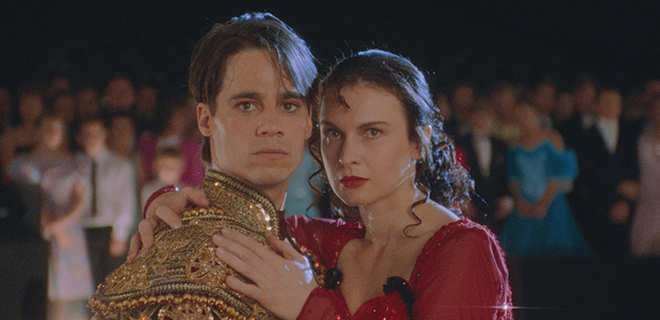 30th ANNIVERSARY, direct from its premiere at the 2022 Sydney Film Festival! Baz Luhrmann's award-winning international box office smash STRICTLY BALLROOM returns to the cinema screen, fully restored by the National Film and Sound Archive of Australia, M&A Films, Baz Luhrmann and Spectrum Films.

Exploding onto the world stage following a debut at the 1992 Cannes Film Festival that had audiences dancing in the isles, Luhrmann's astonishingly assured feature directorial debut is a dazzling comedy musical that was integral in the Australian cinema renaissance of the early 1990s. Scott Hastings (Paul Mercurio) is a ballroom dancer with innovative steps and a penchant for breaking the rules. His impulsive behaviour on the dance floor causes him to lose his Waratah Championship partner, Liz Holt (Gia Carides). Fran (Tara Morice), from the beginners' class and waiting in the wings, offers to be Scott's new partner. They set off on a journey to prove the judges wrong and to dance their own steps at the Pan-Pacific Grand Prix Championships.

The restoration of Strictly Ballroom involved a 4K 16bit scan of the Original Print Negative, from the national collection, completed to international archival standards. The final audio mix was digitised and demuxed. The restoration process included the involvement of the two key creatives – Producer Tristram Miall and Director Baz Luhrmann.
Show Times
Trailer
Details
Legend Deluxe: In-Cinema dining session.
Event: Special event screening, complimentary & discount tickets do not apply
CC & AD: Closed Captions or Audio Description available for individual/personal use in those shows indicating a 'CC & AD' notation on a film's session time booking button. Please note that only selected sessions are capable of offering the Closed Captions or Audio Description option, please contact the cinema in the event of confusion to avoid disappointment.
Session times for the new cinema week, commencing each Thursday, will be released the Tuesday afternoon prior