Room, The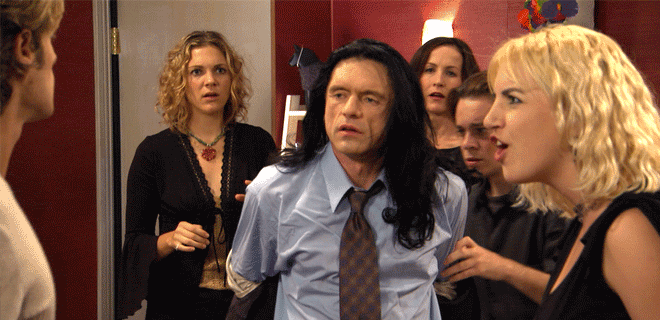 Tommy Wiseau's THE ROOM first screened at Cinema Nova in February 2010, where it has since become a cult-favourite, expanded into other Australian states, been introduced by co-star and bestselling author Greg Sestero on countless occasions, and adapted into an Oscar nominated 'making of' comedy/biopic. It is the most outrageous cinema experience you'll ever have and is like no other film you have ever seen.

Written by, directed by and starring the enigmatic Tommy Wiseau, this misguided disaster-piece has garnered a massive cult following the word over, leaving audiences stunned and wondering "how can so bad, be so good?" Johnny (Tommy Wiseau) seems to have it all - a beautiful fiancée, Lisa, great friends and a job with a promotion in the works. But Lisa (Juliette Danielle) isn't who she seems. Manipulative and restless, Lisa sets her sights on Johnny's best friend Mark (Greg Sestero) and they start a torrid affair that soon causes Johnny's perfect world to crumble.

THE ROOM is an audience interactive event complete with a Room Guide, loud cheering, quoting along lines, yelling at the screen and throwing LOTS of (eco friendly) spoons at the screen. Please note that it is a condition of entry to all sessions of THE ROOM that bags must be presented for inspection if requested.
Show Times
Trailer
Details
Legend Deluxe: In-Cinema dining session.
Event: Special event screening, complimentary & discount tickets do not apply
CC & AD: Closed Captions or Audio Description available for individual/personal use in those shows indicating a 'CC & AD' notation on a film's session time booking button. Please note that only selected sessions are capable of offering the Closed Captions or Audio Description option, please contact the cinema in the event of confusion to avoid disappointment.
Session times for the new cinema week, commencing each Thursday, will be released the Tuesday afternoon prior