Rocky Horror Picture Show, The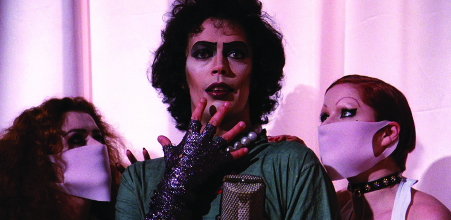 LET'S DO THE TIME WARP AGAIN! Join us for a special event screening of one of the greatest cult musicals of all time, back on the cinema screen.

On a wild and rain-swept late-November evening, somewhere at an empty stretch of road outside Ohio's merry Denton, blissfully-affianced, prudish, boringly-innocent young pair Brad Majors (Barry Bostwick) and Janet Weiss (Susan Sarandon) find themselves stranded. Inadvertently discovering the cross-dressing Dr. Frank-N-Furter's (Tim Curry's) spooky lair of inexhaustible oddities, Brad and Janet participate in the out-of-this-world mad scientist's proud unveiling of his latest, most daring creation: the perfect sex symbol - the flaxen-haired Rocky Horror (Peter Hinwood).
Show Times
Trailer
Details
Legend Deluxe: In-Cinema dining session.
Event: Special event screening, complimentary & discount tickets do not apply
CC & AD: Closed captions or audio description available for individual use for this session, captions DO NOT appear on-screen.
Session times for the new cinema week, commencing each Thursday, will be released the Tuesday afternoon prior
RT @IncredibleCulk: Just staying Covid-safe wearing by the flayed skin of my younger self. Don't forget to wear your masks, kids. https://…
RT @MonsterPics: We're pleased to report that allocation of our 2020: Monster Fest | Melbourne VIP Passes are now exhausted 🤘 If you're th…