Room, The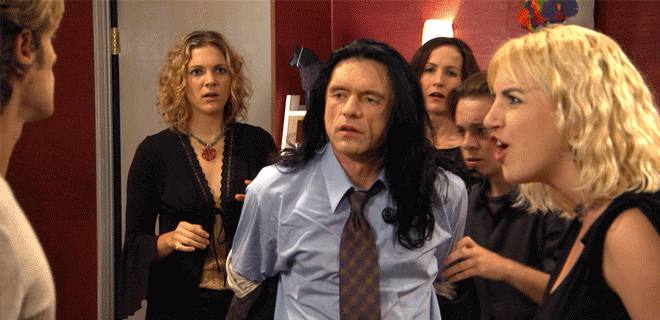 MELBOURNE INTERNATIONAL COMEDY FESTIVAL SCREENING
Wednesday April 1 – 7.00pm – on sale below.
Celebrate April Fool's Day and the 10 year anniversary of The Room at our special screening as part of the Comedy Festival. Laugh, cry, scream – this will likely be the most outrageous cinema experience you will ever have!

MELBOURNE'S HOME OF 'THE ROOM' SINCE FEBRUARY 2010!

Written, directed and starring Tommy Wiseau, THE ROOM is like no other film you've seen. Johnny (Tommy Wiseau) seems to have it all - a beautiful fiancée, Lisa, great friends and a job with a promotion in the works. But Lisa (Juliette Danielle) isn't who she seems. Manipulative and restless, Lisa sets her sights on Johnny's best friend Mark (Greg Sestero) and they start a torrid affair and Johnny's perfect world starts to crumble.

Featured on Adult Swim's Tim and Eric, Awesome Show, Great Job! and beloved by comic actors such as David Cross and Alec Baldwin, THE ROOM has garnered a massive cult following, selling out sessions across the US, leaving audiences stunned and wondering "how can so bad, be so good?"

Please note that it is a condition of entry to all sessions of THE ROOM that bags must be presented for inspection if requested.
Show Times
Trailer
Details
Legend Deluxe: In-Cinema dining session.
Event: Special event screening, complimentary & discount tickets do not apply
CC & AD: Closed captions or audio description available for individual use for this session, captions DO NOT appear on-screen.
Session times for the new cinema week, commencing each Thursday, will be released the Tuesday afternoon prior
RT @OnePerfectShot: A good opening credits sequence does a lot more than announce the film's title. The best of the best can set the stage…
RT @kevasyork: If you can't afford therapy might I recommend A BEAUTIFUL DAY IN THE NEIGHBOURHOOD https://t.co/B63ZAN0tUn
RT @SG_Posters: @jokermovie @1917 @MarriageStory @TheCinegogue @OnePerfectShot @DiscussingFilm @totalfilm @TheFilmStage @TheAcademy Here's…
RT @SG_Posters: First batch of my #Oscars poster series is done, second one coming next week! #BestPicture https://t.co/suA7RXD2OH
@nolotusblossom Hi Grace, we handed out complimentary tickets to patrons on the way out of that session but it seem… https://t.co/JjRxDGioKu