Room, The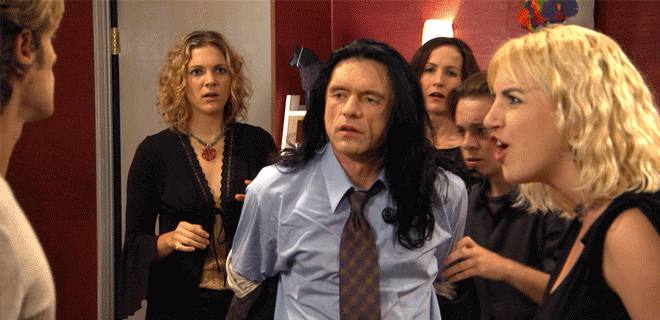 Saturday August 1st screening of THE ROOM: limited to 20 persons until audience limiting restrictions are changed, check this page and our social media accounts for updates. At this time we ask that attendees keep their spoons in their pockets and avoid throwing anything in-cinema.

Join us when we belatedly celebrate ten years of THE ROOM screening at Cinema Nova! Laugh, cry, scream – this will likely be the most outrageous cinema experience you will ever have! Written, directed and starring Tommy Wiseau, THE ROOM is like no other film you've seen. Johnny (Tommy Wiseau) seems to have it all - a beautiful fiancée, Lisa, great friends and a job with a promotion in the works. But Lisa (Juliette Danielle) isn't who she seems. Manipulative and restless, Lisa sets her sights on Johnny's best friend Mark (Greg Sestero) and they start a torrid affair and Johnny's perfect world starts to crumble.

Please note that it is a condition of entry to all sessions of THE ROOM that bags must be presented for inspection if requested.
Show Times
Trailer
Details
Legend Deluxe: In-Cinema dining session.
Event: Special event screening, complimentary & discount tickets do not apply
CC & AD: Closed captions or audio description available for individual use for this session, captions DO NOT appear on-screen.
Session times for the new cinema week, commencing each Thursday, will be released the Tuesday afternoon prior
RT @OnePerfectShot: E.T. THE EXTRA-TERRESTRIAL (1982) Cinematography by Allen Daviau Directed by Steven Spielberg Explore the extraordina…
RT @grovesdj: Superb supporting cast for @bazluhrmann's Elvis includes Richard Roxburgh, Helen Thomson, @WenhamDavid , @dacremontgomery,…
Well, we're all over this in Victoria, amirite!? 😷 Paul Rudd urges 'fellow millennials' to mask up in coronavirus s… https://t.co/UhsiT5pvOZ