Spirited Away + Princess Mononoke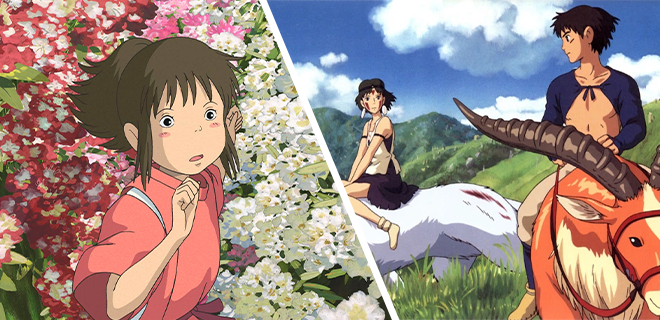 DOUBLE BILL! Arguably Hayao Miyazaki's two greatest films, revisit the startling animation and imagination set in wonderlands of gods and monsters.

From Hayao Miyazaki, one of the most celebrated filmmakers in the history of animated cinema, comes the Academy Award winning masterpiece. Spirited Away is a wondrous fantasy about a young girl named Chihiro who discovers a secret world of strange spirits, creatures and sorcery. When her parents are mysteriously transformed, she must call upon the courage she never knew she had to free herself and return her family to the outside world.

English revoiced version.

A beautifully realized tale of civilization versus nature, PRINCESS MONONOKE is a true epic by Japan's master animator Hayao Miyazaki. While protecting his village from a rampaging boar-god, the young warrior Ashitaka becomes afflicted with a deadly curse. To find the cure that will save his life, he journeys deep into sacred depths of the Great Forest Spirit's realm where he meets San (Princess Mononoke), a girl raised by wolves. It's not long before Ashitaka is caught in the middle of a battle between iron-ore prospecting humans and the forest dwellers. He must summon the spirit-powers and all his courage to stop man and nature from destroying each other.

English revoiced version - featuring Gillian Anderson, Claire Danes, Minnie Driver, Billy Bob Thornton and more!

Show Times
Trailer
Details
Legend Deluxe: In-Cinema dining session.
Event: Special event screening, complimentary & discount tickets do not apply
CC & AD: Closed Captions or Audio Description available for individual/personal use in those shows indicating a 'CC & AD' notation on a film's session time booking button. Please note that only selected sessions are capable of offering the Closed Captions or Audio Description option, please contact the cinema in the event of confusion to avoid disappointment.
Session times for the new cinema week, commencing each Thursday, will be released the Tuesday afternoon prior
RT @annemarie_d: I FINALLY got to go see @SparksBrothers at @cinemanova ! Here's my review on the @edgarwright documentary 🎶❤️ #TheSparksBr…
RT @storme_pettit: THIS FILM. Ripped my fecking heart out... but in the best of ways. So nice to be back at the cinema #COVID19Vic @cin…
The masterful and terrifying debut feature from director Valdimar Jóhannsson, LAMB excavates primal fears, and is c… https://t.co/NKi6EGUN3J
RT @UniversalPicsAU: A legacy worth killing for. Welcome to the #HouseOfGucci. Watch the official trailer starring Lady Gaga, Adam Driver,…
RT @MadmanFilms: A candy-coloured exploration of life inside The Villages, America's largest retirement community. Some Kind of Heaven is c…