Contact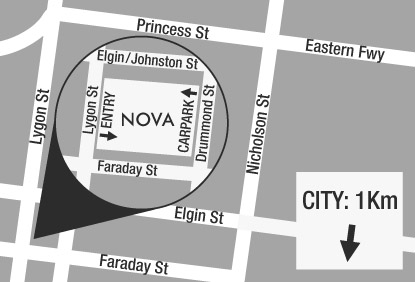 CINEMA NOVA is located at 380 Lygon Street Carlton, within Lygon Court.
By tram:
Tram Routes: 3, 3a, 5, 6, 16, 64, 67, 72.
Tram Stop #1: Melbourne University.
Directions: Walk east from Melbourne University to Lygon Street (300 metres)
Tram Route: 1, 8.
Tram Stop #112: Corner Elgin St/Lygon St
Directions: Walk south/toward city along Lygon Street (100 metres)
By train:
Melbourne Central Station (then a tram ride as per above)
By bus:
The following buses stop at the corner of Lygon and Elgin Street, Carlton
200, 201, 202, 203, 205, 207
Is there parking available?
Free 2 hour parking is available in the Lygon Court Shopping Centre Car Park (accessible from Drummond St, Carlton) between Faraday and Elgin streets; look for the Woolworths signage. Simply present your Nova ticket to the attendant when exiting. $3 hourly rate thereafter. Alternately, there is non-discounted parking available near the corner of Elgin & Lygon streets behind Jimmy Watson's wine bar. Other paid parking is located behind the Clocktower complex, accessible from Drummond Street between Faraday and Grattan streets. Metered street parking is plentiful.
Send us an email
Now here's a fab poster! Come see our Meet the Filmmaker screening of the new Aussie thriller #LostGullyRoad featur… https://t.co/k8jSWvnBtH
Today and tomorrow! Get up close to the masterpieces of #VincentVanGogh in the enthralling art documentary VAN GOGH… https://t.co/fMeBx7fGEO
Coming to @BF_Movie and #TheRoom tonight? @gregsestero recommends you get a choc top for the movie! 🍦 https://t.co/uRnFuaehOD
@username4twitta Yes he will Mike, get over here quick - Greg will be signing in the Nova Bar between 5-5.45pm!
"Brilliantly constructed with a visual audacity that serves the subject rather than the other way around." #Foxtrot… https://t.co/6DGLcpQiA1